(1962)
Canta: Adriano Celentano

Il "Molleggiato", sposato dal 1964 con Claudia Mori, fece il suo debutto nel mondo dello spettacolo imitando il famoso attore americano Jerry Lewis. Nel 1957 esordì come cantante rock ("24.000 baci", "Il tuo bacio è come un rock"...) ma iniziò ben presto a cantare anche canzoni melodiche dal testo spesso "importante": "Pregherò", "Azzurro", "Il ragazzo della Via Gluck", "Chi non lavora non fa l'amore" (eseguita in coppia con la moglie e vincitrice del Festival di Sanremo del 1970)...
Nel '61, sulle orme del Clan Sinatra, fonda il Clan Celentano, che riscuote subito grande successo e che col tempo lancerà altri celebri interpreti (il più notevole dei quali è di sicuro Don Backy).
Le canzoni della maturità artistica di Celentano sono graffianti, ironiche. Spesso anticipano e toccano temi scottanti come l'ecologia, la droga, il nucleare, la caccia, la corruzione. È anche protagonista di pellicole di successo come Serafino, Rugantino, Bingo Bongo, Geppo il folle, Yuppi du. In televisione, quando appare lui, gli indici di ascolto impazziscono. Gli show che lo vedono protagonista negli ultimi decenni fano molto discutere perché vi si vede un Adriano Celentano nelle vesti di "predicatore". Uno di questi show si intitolava 125 milioni di cazzate: polemico fin nel titolo...
---
Yuppi Du
(Italia, 1975)
E' il film che avrebbe potuto indicare una nuova via al cinema italiano ma che, stranamente - o forse no -, è rimasto semisnobbato come (e peggio di) un qualsiasi fumettone di Serie B. Adriano Celentano, che ha firmato la regia, ha dato fondo a tutti i trucchi e a tutte le risorse visive per raccontare una vicenda di povertà e violenza, di sesso e amicizia, di lavoro-schiavitù, di stupro selvaggio, ecc. La tecnica richiama quella del cinema bolscevico mentre la morale è, come al solito, improntata alla denuncia ecologica e a un cattolicismo di stampo praticamente sanfrancescano.
L'ambientazione principale, assai suggestiva, è quella della Laguna di Venezia, cui per un po' farà da controparte una cinerea (e quasi felliniana) Milano.
E la colonna sonora? Semplicemente strepitosa.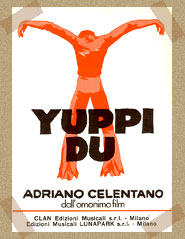 Come mimo e come uomo, l'Adriano nazionale si presenta fin dalle prime scene nella forma della sua vita; accanto a sé può vantare due donne bellissime:

Claudia Mori

e

Charlotte Rampling

. Sul versante maschile, a fargli da spalla ha chiamato il veneziano d'hoc

Lino Toffolo

e il bravissimo

Gino Santercole

- qui costretto su sedia a rotelle.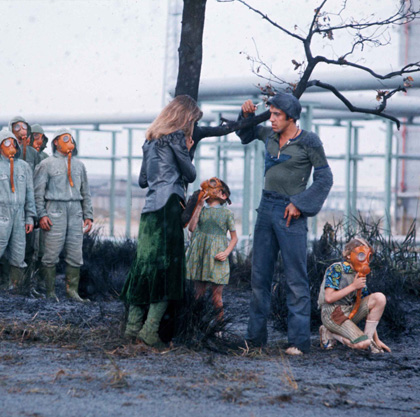 "Silvia è ritornata dal canal": è questa la notizia che sconvolge il barcaiolo Felice Della Pietà, che si è risposato per dare una nuova madre alla propria figlioletta (interpretata da

Rosita Celentano

, alias "Jon Lei").
Silvia (Charlotte Rampling) era creduta morta, suicida; in realtà se l'è spassata per sei lunghi anni a Milano insieme a un uomo ricco. Rieccola ora a Venezia, e Felice Della Pietà dovrà scegliere tra lei - la "risuscitata" - e la nuova consorte Adelaide (Claudia Mori).

Il film è stato riproposto, restaurato, nella Biennale di Venezia del 2008. E' un'opera meno banale di quanto vogliono continuare a far credere certi critici. Di tutti gli "straccionismi" di Celentano, questo è, insieme a Bingo Bongo, il più azzardato e geniale. I fans del "Molleggiato" ameranno in particolare le scene in cui lui fa le mossette da uccello o certe battute popolar-popolarissime. (Il barista della stazione di Milano al cliente di colore: "Lei che cosa vuole?" "Un bianchino." "E lei, signore?" rivolto a Celentano. "Un negroni.")
Sicuro: trattasi di ibrido; un miscuglio di commedia all'italiana, musical, polpettone tragico e teatro dell'assurdo. Ma la summa di tutti questi generi e sottogeneri, moltiplicata per il fattore A.C., dà un cifra tonda tonda.
Il messaggio? Mentre la barca affonda, dobbiamo ballare (o, meglio, muoverci a scatti come lo stesso Adriano), perché tanto non c'è niente da fare e siamo ugualmente fottuti. Se il mondo va in malora, perché non essere, almeno nei momenti consentiti, simpaticamente puerili?
Yuppi du
Regia:
Adriano Celentano
Cast:
Adriano Celentano
,
Charlotte Rampling
,
Claudia Mori
,
Gino Santercole
,
Lino Toffolo
,
Memmo Dittongo
,
Jon Lei
(
Rosita Celentano
),
Carla Brait
,
Pippo Starnazza
,
Bruno Perini
,
Alberto Longoni
,
Carla Mancini
(accreditata ma non presente),
Mariano Detto
,
Raffaele Di Sipio
,
Sonia Viviani
.
Yuppi du yuppi du yuppi du
Yuppi du-i-du yuppi du

There's a fragrance of love in the air
It's penetrating for deep in my heart
And the star was reborn in the sky
And it died the day she went away
Yuppi du yuppi du yuppi du
Yuppi du-i-du yuppi du
Yuppi du yuppi du yuppi du
Yuppi du-i-du yuppi du

I feel the sound of a thousand colours
Which paint this scene this act of love
I hear the music that comes from the water
That rises from bowels of the earth
Yuppi du yuppi du yuppi du
Yuppi du-i-du yuppi du
Yuppi du yuppi du yuppi du
Yuppi du-i-du yuppi du
Now before me a cemetery do I see
Where all the arms of war are buried deep
And from the heaven descends a grand feast
Where all the nations of the world are united
Yuppi du yuppi du yuppi du
Yuppi du-i-du yuppi du
Yuppi du yuppi du yuppi du
Yuppi du-i-du yuppi du...